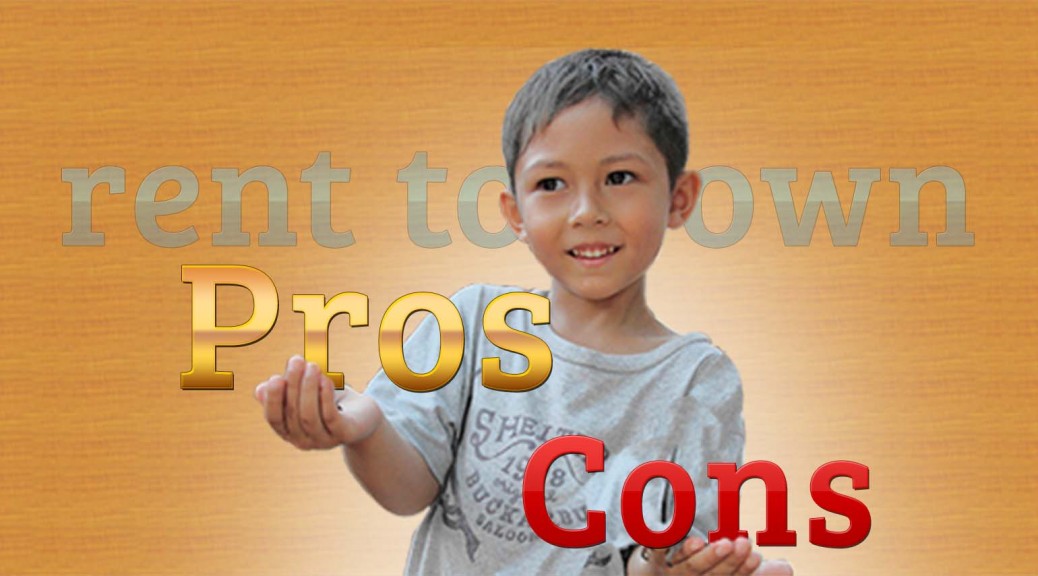 It is every man's dream to own a home. The dilemma faced by most homeowners is whether to just rent a house or condominium unit, or rent it to own it eventually. Below are the pros and cons for both the buyer's side and the seller's side when entering a rent-to-own contract.
For Buyers
The mortgage of most rent-to-own properties takes a long period of time to make them affordable for buyers. This does not differentiate you from a renter who pays less than yours for a long time.

However, there is a possibility that you will own the property in the future and have the benefit of a decent neighborhood.

If you are a government employee, it is best to take advantage of the affordable house loans that the Philippine government offers through HDMF (formerly PAG-IBIG). They offer quite competitive interest rates and can give you up to 30 years to pay for your mortgage.

However, this track leaves very little room for negative change in your status in life. Failure to pay the mortgage for three consecutive months could revoke your rights to the unit and all payments made will be considered gone.

Entering a rent-to-own contract could give you the leeway to make renovations in your condo unit, as you have the intention of getting the property in the future. While plain renters could not modify their apartments right away as it is subject to the unit owner's approval.

Depending on the contract, you can walk away from the agreement if there are serious problems in the property that warrant a revocation of contract.

Although you would sustain some financial losses as most realtors would not let you withdraw the down payment or advanced rent payment (depending on your contract), it would be better to leave it earlier than later when you have already invested so much on the property.

It is recommended that you hire a real estate lawyer to make you knowledgeable about real estate transactions & contracts before engaging into a deal.
For Sellers
On the other hand, selling a condominium unit for rent-to-own requires a lot of skills to ensure the continuity of the business and establish a reputation in the real estate market. Below lists the pros and cons for sellers entering into a rent-to-own contract:
You have to determine the real estate conditions in your area. If the values of condominium units are falling, you can lock in a higher value for your property at the beginning of the agreement to ensure great profitability.

You will have to screen your tenants very well. Consider renters who are planning to own the place eventually. These types of dwellers are more likely ready to assume the property as theirs even at the "renting stage" of the contract. Thus, they will look after the property well in contrast with those planning to just vacate the unit in a year or so.

As a seller, you have a hedge against pre termination of the agreement from the buyer/ tenant and still profit from it. Even if the renter decides to withdraw from the agreement, you still have your income through the rent & the down payment, as well as security bond or advances of rental.

It is best to hire a real estate lawyer to make you fully aware of your rights and responsibilities. Also, to prepare a legally correct contract.
The above-mentioned positive and negative features of entering a rent-to-own contract must be carefully observed by both parties before entering into an agreement. It is important that they both understand the risks and benefits of their arrangement to avoid losses for both.
Here at PPE, we take good care of our clients every step of the way – from the start of the transaction, to long after the sale. This includes empowering them with proper information about their rights, responsibilities and more importantly, how they can get the best deals on the property they want.
If you are looking to buy a property in the Philippines, be it a condominium, house, lot or commercial property, contact us today and be assured of a competent brokerage service that will save you tons of headaches along the way.
Let us know about your preferences – location, time frame, budget, etc. – and we'll give you a set of the best choices that's tailored to your specifications.
---