SMDC Green Residences
Units start at ₱1,866,192
Project type:

Condominium

Location:

University Belt, DLSU Manila

Developer:

SMDC
Turnover/Built:

2016

Listing type:

For Sale
"Live Like A Star, All Is Best At Green Residences."
The principal factors of choosing a living space are directly influenced by our lifestyles and professions. To some people, having the necessary amenities that fit their lifestyle is very important, while others give priority to strategic locations that provide convenience and accessibility to their schools or places of work.
SM Development Corporation (SMDC), one of the country's biggest and most trusted builders of residential developments, understands these needs when it started building Green Residences, a 50-storey tower built along the dynamic Taft Avenue, right beside De La Salle University in Manila. Green Residences offers its residences premiere amenities and easy accessibility to the area's establishments and institutions.
Prime Location
Green Residences is strategically located in close proximity to the area's institutional and commercial establishments. The development certainly provides vibrant living spaces that not only complement the dynamic lifestyle of students, but also those of busy entrepreneurs and thriving professionals who are looking for high-quality residential units right at the center of Manila.
Standing 50 storeys tall, Green Residences is the tallest residential development in Taft Avenue. The building has 42 residential floors, 7-level podium and one Sky Lounge.  Among the attractive features of Green Residences are the panoramic view of Makati's cityscape and the breathtaking Manila Bay sunset view.
Luxurious Amenities
Green Residences features a 25m lap and wading pool on the 8th floor. Residents can have an energizing swim before heading to school or work, or take a revitalizing dip after a busy day.
A supermarket, restaurants and cafés are also included to answer the basic needs of its residents. The Sky Lounge area features a study hall with Wi-Fi hotspots, function rooms, a game room, and a gym & fitness center.
With top-notch facilities and luxurious amenities, Green Residences definitely takes your urban living experience to a higher level.
Residents will not only enjoy a complete and convenient cosmopolitan life, they will also take pride in dwelling in Taft Avenue's iconic tower.
Development Perspective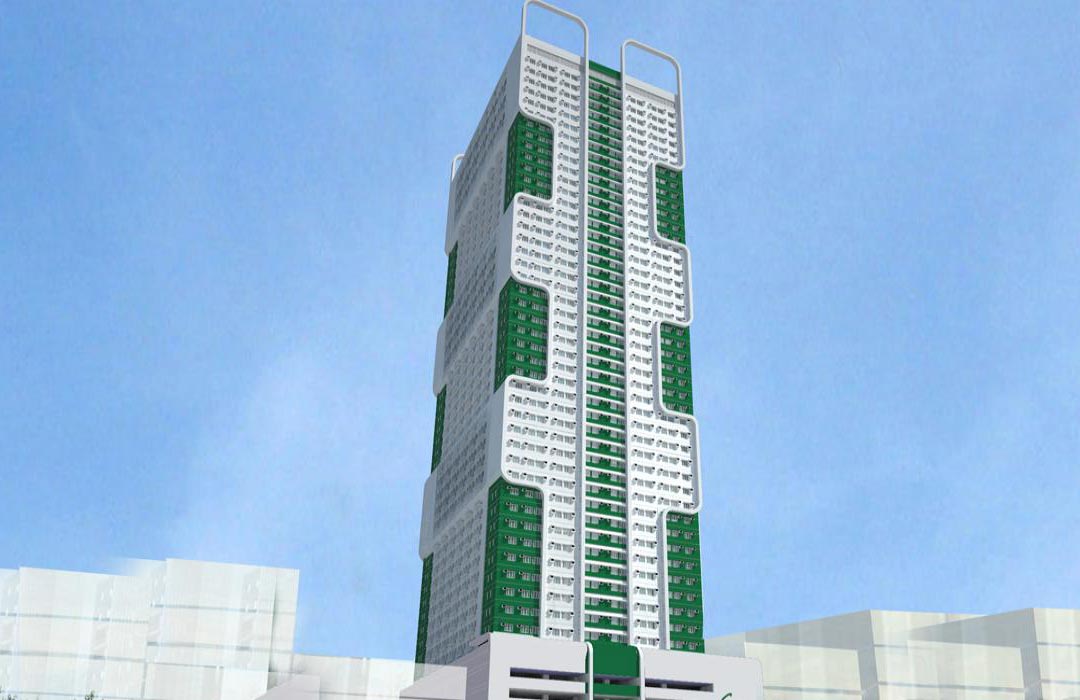 Available Unit Types
Green Residences offers studio suites, standard one-bedroom, and combined one-bedroom units for individuals who are looking for breath taking rooms with cozy ambience in the middle of a vibrant, busy city.
Studio Suite A (from 15.65 sq.m.)

Studio Suite B (from 15.65 sq.m.)

Standard 1BR (from 23.47 sq.m.)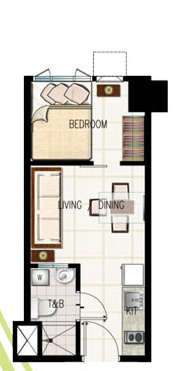 Standard 1BR w/ Balcony (from 28.19 sq.m.)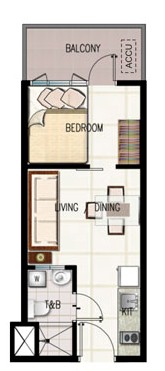 1BR Deluxe w/ Balcony (from 35.28 sq.m.)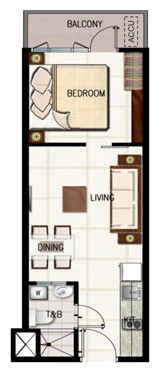 Combined Studio Units (Option A)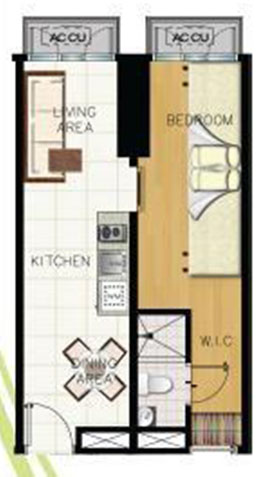 Combined Studio Units (Option B)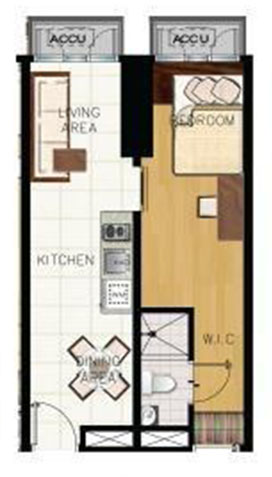 Combined Studio Units (Option C)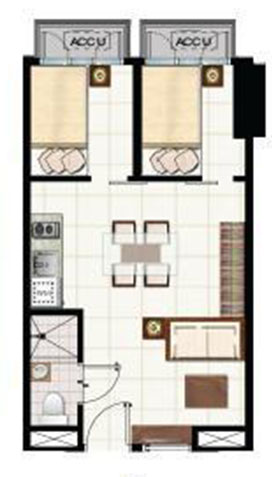 PAYMENT INFO & OPTIONS
P25,000 – Deductible from the total price.
20-80 : 20% payable in 12 months and the 80% by Financing.
10-10-80
: 10% Spot Cash, 10% payable in 12 months and the remaining 80% by Financing.
Get 0.5% discount from the unit price with this option!
10-90
: 10% Spot Cash and the remaining 90% by Financing.
Get 0.5% discount from the unit price with this option!
Deferred Cash
: 100% payable in 12 months with 0% interest.
Discount subject to approval.
Spot Cash
: Reservation fee, then remaining amount within 30 days.
Enjoy 8% discount from the unit price with this option!
Custom payment scheme may be arranged subject to approval by sales admin.
Take Action
Live right in the middle of an exciting and dynamic urban district at SMDC's Green Residences. Get in touch with us to reserve the best units. We'll be glad to assist you in choosing the best option that will fit your preferences and budget.
Note:
Prices, unit availability and payment schemes are subject to change without prior notice. Please Contact us directly for updated quotation.